where are Christel Dauwe Collection glass ornaments made ?
We source all our glass ornaments made in Europe. Some producers sell as if they are producing in Europe but as soon as we discover they are selling Chinees made ornaments they have to leave our collection.
How do you pack the ornaments ?
We always pack our ornaments as it they are for ourselfs. All items come boxed depending on the size of your order we use different sizes of boxes.  The ornaments are laid to rest on a bed of acid free paperwool to protect during transport against chocks and scratch in the paint.
How to store your ornaments ?
We believe that you can best store your ornaments in the boxes we gave you for transporting them home.
Ideal is off course to store them as a level temperature so not "to cold or to hot". Temperatures in your attic can rise pretty high in summer and basements can be to moist. The paint is not UV protected to to much sunshine may damage the colours over time.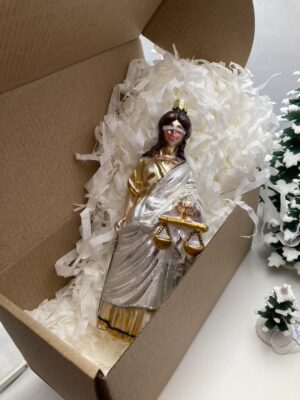 How bad is moisture for your ornaments ?
When put under water the paint can just comes off !!! So unless you are planning to have all silver ornaments in your chritmastree : Keep them dry. Be real careful with your little treasures.
Be gentle with them as you are more gentle with the more expensive pieces of clothing you own as to the normal stuff.
How to keep the ornaments clean ?
When putting them put give our Christel Dauwe Collection ornaments a gentle strock with a soft brush (I always use natural hairs no synthetic brushes). After spending Christmas with your loved ones be sure to give your onmanents an extra brushing and store them in the appropriate boxes.
How about those plastic "ornament" storage boxes ?
I am no fan off these boxes. As they have space for a specific size of ornament and we have to many different sizes and shapes in our collection. On top of that if by any change some moist might get in. It will be sealed in and do it's work while a cardboard box might suck up this moist (when it is not to much of course).
But of course you always have to make your own choices and store the ornaments as you feel is best for them.
I am here only giving my idea about it and I am not familiar with the circumstances in your home.